If you've ever sent an email newsletter to customers, followers, or any group of people, there are two services that come to mind: Flodesk and Mailchimp. These two predominate the email marketing industry – Mailchimp has been operating since 2001, while Flodesk is more of the new, upstart kid on the block.
While both products have solid services, there are plenty of factors you have to consider before committing to one service:
Key Features
Simply put, Mailchimp has more features to offer than Flodesk.
The thing is because Flodesk is still a relatively new player on the market, they have focused more on being primarily an email newsletter designer service. While they do have basic analytics and other services, it does not compare to Mailchimp's wide capabilities for analytics, customization, and more.
It's better to classify Mailchimp as a Customer Relationship Management Software (CRM) than anything else. Mailchimp offers Dynamic Content and Auto-Responders that could increase engagement with users. They also provide other services such as Drip Campaigns, Customer Surveys, and more that could collect customer data or re-engage cold reads.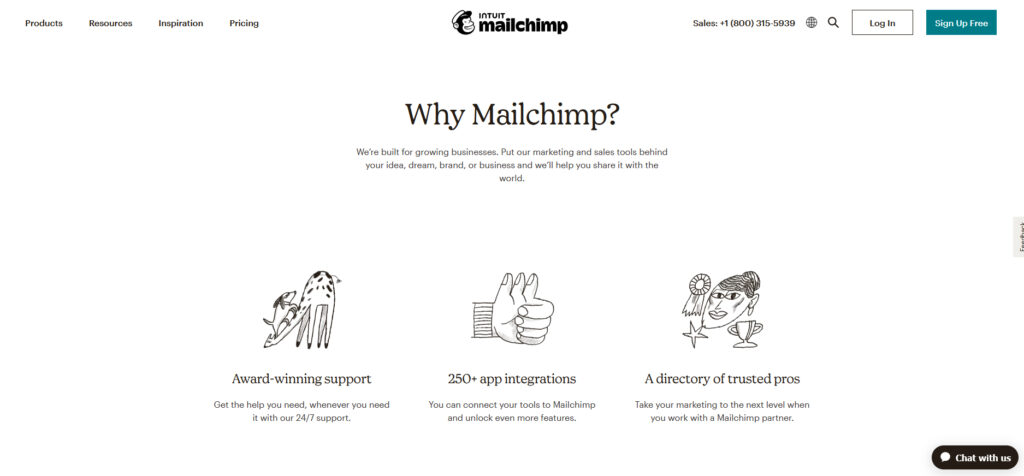 Furthermore, Mailchimp has integration with other services such as Shopify and WordPress, which may prove more beneficial for e-commerce businesses, for example. These and other add-on services mean that Mailchimp has more use cases than its competitor Flodesk.
Regardless, both services still do offer the basic email marketing services usually expected by their users. Both have subscriber management, WYSIWYG editors, basic analytics, and other services that you would usually expect out of an email marketing service. So don't worry too much if you just need the basics
However, because of the aforementioned add-on services that Mailchimp offers, and the better analytics and tools for user and customer retention that it provides, we can say that Mailchimp wins in this category.
Winner: Mailchimp
Ease of Use
While Mailchimp has more services offered overall, Flodesk excels in its simplicity and ease of user experience.
With drag and drop, a neater UI design, and template customization, Flodesk is definitely easier to use, especially for new users. What's more, there's no need to learn CSS, while you need at least some knowledge of the language to utilize Mailchimp's full potential.
In terms of templates, Flodesk blows Mailchimp out of the water. You can create amazing email templates with Flodesk by just dragging and dropping them, making it way simpler than Mailchimp. The visuals are cleaner and are visibly more striking than those available at Mailchimp.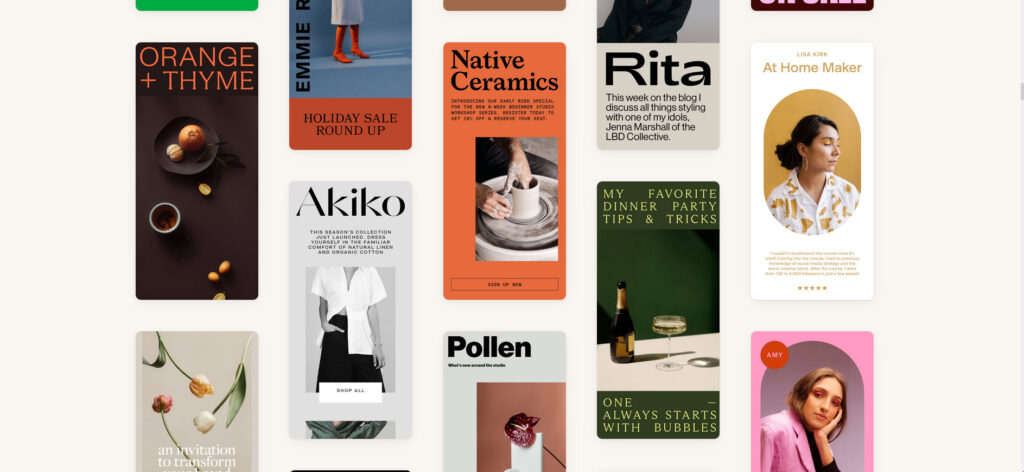 Meanwhile, you can still definitely create stunning newsletters and templates with Mailchimp. There are available templates that you can just use (although you have to be a subscriber to use them). However, you have to have a great command of the application to do this. While you have to have a good grasp of how to use any application to fully utilize it, the consensus is that Flodesk is just much simpler to use while Mailchimp is harder to master.
Because of these factors, especially the use of templates, Flodesk is the easier application to use between the two.
Winner: Flodesk
Pricing
Here, there is no clear winner, as it will depend on your use case. The two services cannot be any different when it comes to pricing.
Mailchimp offers tiered pricing, depending on the services you would like to access and the number of contacts you would send emails to. There are four tiers: Free, Essentials ($9.99 / month for 500 contacts), Standard ($14.99 / month for 500 contacts), and Premium ($299 / month for 10,000 contacts).
The tiers differ in the services available to them. For example, while Essential offers email templates and A/B testing, Standard adds Behavioral Targeting and Dynamic Content, while Premium gives access to all the services that Mailchimp delivers. Mailchimp is generally regarded as the service with the best premium services, although you can still avail of their free service if you want.
Meanwhile, Flodesk adopts an… unconventional approach to pricing. They offer a flat fee of $38 per month. That's it. All services will become available, and it doesn't matter how large the mailing list is. The price will remain $38 per month. Note that Flodesk does not have any Free tier offerings, but they offer a free trial for 30 days.
Because of this, it will then depend on your use case whether or not the pricing of any service is worth it for you. For example, if you have a large mailing list but don't need analytics, customer retention techniques, or other services like that, Flodesk might be the option for you. Otherwise, if you need those analytical services (this is especially true if you are a medium to large-sized company), then Mailchimp is definitely the better deal for you. So again, consider your use case before considering pricing.
Winner: Draw
Final Verdict
The two email marketing services definitely have their pros and cons. Mailchimp has superior services and add-ons for customer analytics, retention, and general relationship management. On the other hand, Flodesk is sleeker, has more striking and elegant visuals, and is way easier to use. Their pricing is vastly different too, with a tiered pricing structure versus a flat fee.
Therefore, as with pricing, the overall winner between the two will really depend on your use case and your preferences. Are you tech-savvy, know CSS, and prefer having data to guide marketing decisions? Maybe you want to target a wide audience and increase customer engagement through integrations and other services. Then Mailchimp is the service for you.
Maybe you're using your newsletter, not as a way to sell a product, but to just deliver content to your social media followers. Maybe you prefer visuals over analytical data and want an easier time organizing and designing your newsletter. Then you should use Flodesk.
Either way, however, both are considered to be great services. You really can't go horribly wrong with any of them. Whether you choose Flodesk or Mailchimp, both have the tools you need for great newsletters or email marketing.