If you're looking for a domain name for your business that's short, sweet, and easy to remember, then you might want to consider buying a 3 or 4-letter .com domain. These domain names are becoming increasingly rare, and they can be difficult to find. The price has also soared over recent years, with prices for 3-letter domains now costing hundreds of thousands of dollars or even millions.
4-letter domains are comparatively much cheaper in general, but 4-letter words or pronounceable combinations are still a large investment for a company. These short domains are very memorable though and might be a contributing factor to your company's success.
A shorter domain name is easier to remember and type than a longer one. However, a shorter domain name might be more expensive than a longer one. This is because shorter domain names are more desirable and therefore more valuable.
The domain extension is the part of the domain name that comes after the dot, and is also an important aspect when choosing your domain. For example, in the domain name "example.com", the ".com" is the domain extension. There are many different domain extensions available, but .com is still the most popular and most recognizable.
Many startups are now choosing lesser-known extensions such as .IO, but .com is still the big hitter, and most companies learn that at one point or another it is wise to own the .com extension of your domain.
If you're looking to buy a 3 or domain name, there are a few things you should keep in mind. First, domain names with three letters are called "TLDs" or "top-level domains". These domain names are some of the most desirable because they're short and easy to remember. However, they can be difficult to find and are often more expensive than other domain names.
Lastly, when you're choosing a 3 or 4-letter domain name, you'll want to make sure that the letters are pronounceable. This will make it easier for people to remember your domain name and visit your website.
When buying a premium short .com domain, it's not so simple as just heading over to your name registrar and buying the domain.
The easiest way to find available domains is to head over to ExpiredDomains.net and create a free account. Then you want to go through the Marketplace Domain tabs.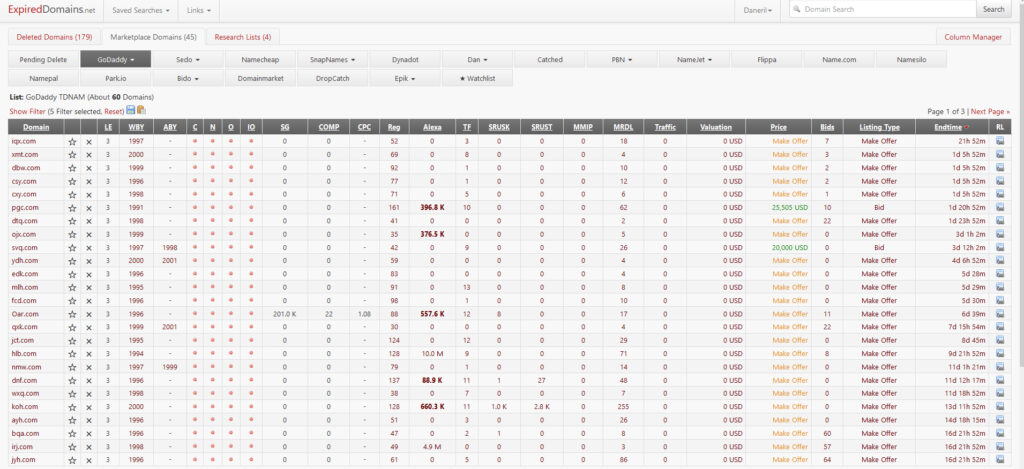 Use the filter to only see .com domains, set the length to 3 or 4 letters, excluding numbers and hyphens, and you should see all the available short domains on the various marketplaces.
If you don't find your dream domain, be sure to check back often as new ones are dropped or sold all the time.
Good luck with finding your perfect domain!