Like most of my ideas, this one came from a video game. The video game was Everquest, a predecessor to World of Warcraft for those of you who are not into games, and the idea was this;
In Everquest you kill monsters and they give you equipment that you can either sell or keep to become stronger. You can also buy and sell this gear, and often players will sell under market value for various reasons. Although I was very young at the time I had an idea. I could buy some cheap gear that I needed for my character, but at the same time I would advertise it for sale for a bit more than I bought it for. When it sold, I bought a new piece of gear and did the same thing. This way I built up wealth in the game without any risk.
As an adult I learned that the same idea works perfectly well in real life as well. Buy a used couch that you think is cheap and nice. Put it in your livingroom, and use it as you normally would. Maybe clean it up a bit if its worn and try not to wear it out. Take some nice pictures and put it up for sale for more than you bought it for. If it sells, you've made bank. If it doesn't, no matter, you always need a couch. And in my experience, stuff almost always sell eventually.
At this point, most of the things in my house is for sale. Furniture, paintings, kitchenware. Even my clothes and shoes. A lot of the stuff I have, I've either gotten for free or really cheap online, at flea markets or in thrift shops. And every week I sell some of it, mostly through apps and online marketplaces.
Let's go through a few of my flips from the last six months.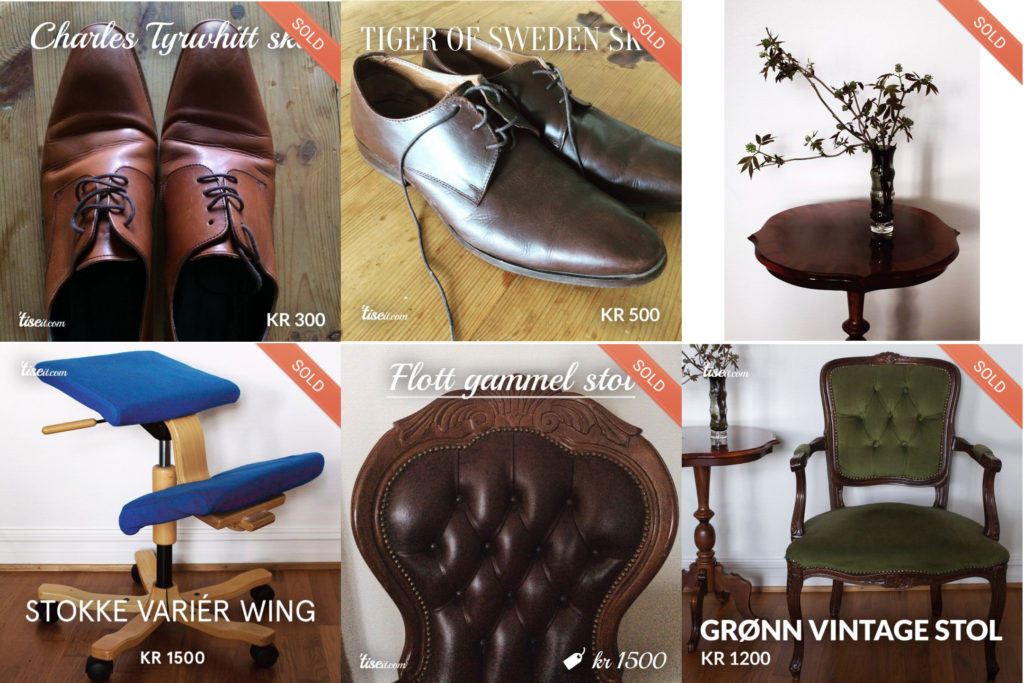 These items have all been sold through an Norwegian app called Tise. It's all in Norwegian krones but I'll convert everything to usd below.
Tiger of Sweden and Charles Tyrwhitt shoes: Bought both for 5$ at a flea market and sold them for 92$.
Table: Bought 5 different tables for 57$ at a thrift store. Sold two for 57$ to break even quickly. Haven't sold the last three yet.
Blue Stokke chair: Got this for free at Finn.no, a Norwegian site that resembles craigslist and eBay combined. This is a very popular Norwegian design chair. Sold for 173$.
Brown leather chair: Also free from someone cleaning out an old apartment they had bought. Sold for 173$.
Green chair: Bought for 28$ at a flea market and sold for 130$.
All in all, these 6 flips cost 90$ and made a total of 625$ with very little work, and I still have 3 tables that I haven't sold yet. So, in the end, it will probably be close to 1000$ from 90$. That's a nice 10x.
As a nice bonus compared to a lot of other businesses I've run, is that all these items are of high quality so I have never experienced a return. Never.
Here on Good Solid I will post all my future sales on the blog, so keep checking back for tips on how to make your house a store!